William Clarke uses OLYMPUS professional DSLRS, lenses and accessories
Current Inventory;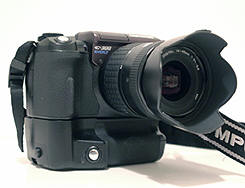 The 8 megapixel Olympus Evolt E300 made waves when it was introduced in 2004. Its sleek rangefinder styling, combined with exhaustive research and engineering, is my current choice for assignment photography.
Its robust construction (space age composite over a metal chassis) and portrait grip provide more than enough power for a full day of shooting, and its patented Super Sonic Wave Filter means the full-frame sensor will never get bogged down in the dirt common to other DSLRs
Its TruePic TURBO image processor offers significantly improved image quality and combines with anti-blooming technology on each pixel to eliminate undesirable artifacts, moiré patterns, and other aberrations. TruePic TURBO also has a huge impact on overall camera responsiveness as it accelerates the camera's startup time, decreases the shutter release lag time so you can capture images more rapidly, and provides quicker image playback for instant review. The Evolt E-300 also lets you capture fast-paced action with a quick 2.5-frames-per-second burst mode, and keeps you shooting fast for longer periods of time with its 64MB image memory buffer and separate working memory for camera controls.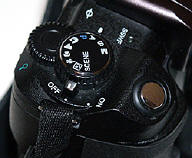 For the more creative or new photographer, the E300 features a selection of pre-programmed modes ranging from black and white through to low light flash shooting with second-curtain synch. The E300 packs an awesome amount of performance into a package that will please many users from the first-timer shooting on auto to the professional shooting with full manual control.
Shooting a different system? Regular system being repaired? You might want to consider the Evolt E300 for your backup camera needs or for that special event where you can't afford to come back empty handed! Mention this website to snag your second day on me! Click here to review specs.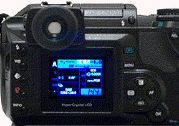 E300 camera kits include 2 fully-charged batteries, USB cable, with or without portrait grip, with or without ME-1 viewfinder magnifier. Weekend and weeklong rentals also include a battery charger.

OLYMPUS E300
$45/day (SPECIAL includes 14-45 lens and 512Mb memory!!)
$65/weekend (Pick up after 4p.m. Friday, return before 10a.m. Monday)
$140/week (10a.m. Monday to 4p.m. Friday)
OLYMPUS E500
*coming soon!
Maximize your rental experience!
You might not want to use your rental time getting to know the camera. So you'll be prepared before you pick up the camera, follow this link to download the official OLYMPUS E300 Quick Start guide and E300 Instruction Manual, or send me an email and I'll get them to you.

Help! I need whatever DSLR you've got!
The Kodak DCS520/Canon D2000 is the classic digital photojournalism camera. Yep. You've seen them on Ebay and read reviews all over the net on these 2Mp news cameras. Hey, I've shot magazine covers and 11x17 newspaper pages with these cameras as recently as September 2006 - and these are what I use when my OLYMPUS cameras are out. They're a classic, razor sharp, hardworking camera - but these are absolutely NOT cameras for inexperienced photographers.
The Kodak RAW TIFF format requires substantial post-processing, but what pros don't shoot RAW anyway? In any event, multiple ISO settings to 1600, a 14-shot (!!!) buffer and a top shutter slap of 1/8000 ain't nothing to sneeze at. So forget what your sissy photo instructor told you about more pixels being better; the DCS520/D2000's larger pixels capture great light - and that's a lot better for biggie-sizing your pictures.
Note; Adobe Camera Raw 3.5 provides interpolation to 6.3 Mp and I've pushed as high as 12Mp!!
Canon D2000 (integrated grip) $30/day
Sigma 28 - 105 F3.5 - F5.6 $10/day
Vivitar 1.4x converter $5/day
Sigma EX 17 - 35mm F2.8 - F4 $30/day
Sorry! Sold all of my Canon pro lenses when I switched to Olympus.