William Clarke uses OLYMPUS professional DSLRS, lenses and accessories
Why Rent?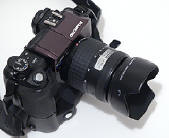 Why would anyone rent a DSLR or the accessories that go into making great photos? Quite frankly, if you're tired of chasing technology and shelling out $$$ year after year for the newest system, you might never have to own another camera!
Whether it's a backup to your main system or your primary rig for those weekend weddings, my quality professional OLYMPUS products and North America's lowest rental rates could save you a ton of money.
Call or email for professional and student pricing.
Rentals cost less!
Does that really need an explanation? Unlike leasing or pay-as-you-own deals, you always have access to the latest and best equipment without the cost of ownership. If you're a professional photographer, or other business client, your rental rates are 100 per cent tax deductible - and you're not stuck paying out a term when you're not using the gear. Get what you want, when you want.
NO SECURITY DEPOSIT REQUIRED!
Who thought up deposits? My terms are very, very simple; you break it, you pay to repair it - you lose it, you pay to replace it. All I need are proof of residence and a valid ID, but for your own peace of mind, you'll want to make sure your insurance covers my gear while it's in your possession.
Quality
I purchase OLYMPUS DSLRs that perform to the most demanding needs - mine. As a working professional, I need equipment that gets the images and doesn't let me down. With pictures appearing in many of the top newspapers and magazines in the world, 'good enough' just doesn't cut it.
Selection
Need a portrait grip? Smaller camera? Close-focus medium zoom? How about a telephoto or fish-eye? Whether used as your primary camera or as a backup, renting from me gives you the option of choosing the EXACT combination you need, when you need it.
Service
You're stuck with your regular rig gone for an extended repair, or maybe you just need a system for a few hours. No problem. Give me a call, or send an email, and we'll arrange a package that suits your needs - and your budget!
Accessories
It's Murphy's Law; you never know what you might need until the day before you need it. Portrait highlight strobes, slave triggers, filters, flashes, backdrops, portable power, computer workstations... chances are pretty good that I'll have that last-minute necessity.
Perfect for Travelers
In these days of air travel, why risk transporting your pride and joy? Send me an email and I'll have your choices waiting at your hotel in a convenient, tasteful LOWEPRO or TAMRAC shoulder bag!
Easy Payment
You can pay for your rentals with cash, cheque, online debit and terms are available.
Rental Rewards
Okay, you're happy with the service so why not tell a friend? With each new client who names you as their source, you'll receive your next DSLR rental or lens upgrade on me. And every fifth rental is yours at no charge!
When you add up all of the benefits of renting your kit from me (great 8Mp cameras, full range of accessories, pro lens availability, easy payment plans and a rewards program) what's stopping you from checking out a rig today?